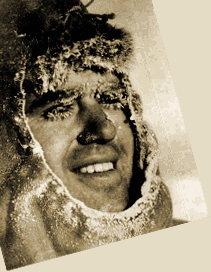 The Man : His Races
Raced with the best in sprint mushing demonstration races in the 1932 Lake Placid Winter Olympic Games.
In 1967, drove a snowmobile 5000 miles from Alaska to Boston.
Brazenly declared himself dog driving champion of the Pentagon to compete as the first non-Alaskan dog driver in the North American Sled Dog Championships in Alaska.
At age 68, moved to Alaska for dogs and adventure with empty pockets after a business collapse and a shattered marriage. Shoveled sidewalks for food, found a job as a janitor, and built a dog team.
Participated in 13 Iditarods, running his first one at age 72. Completed 6 with his last finish being in 1990 at the age of 84.
Crashed President Carter's inaugural parade and was in the next two.
Taught John Paul II how to mush.
In 1997 organized the annual 868-mile Serum Run from Nenana to Nome, Alaska. This commemorates the 1925 dash to Nome by the fastest village dog teams to deliver diphtheria serum to save Nome.