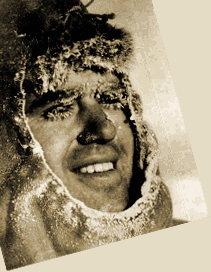 The Man : Military Feats
With 425 dogs under his command in WWII, trained men and dogs for daring rescues.
Instigated the rescue by dog team of 26 air crew on the Greenland ice sheet, saving the fighter pilots and bombardiers of the Lost Squadron
Under enemy eyes, returned solo by dog team to the crashed planes to salvage the top-secret Norden bombsight.
Fifty years later, traveled to Greenland for 11 years to help salvage one Lost Squadron P-38 plane from its prison of ice.
Persuaded top brass to risk a brilliant scheme to evacuate wounded soldiers by dog sled from the Battle of the Bulge with 209 dogs and 17 drivers.
Served as Chief of Search and Rescue for the North Atlantic Division of the International Civil Aviation Organization, the air wing of the U.N.
Served in the Psychological Warfare Department with the Pentagon in the Korean War.