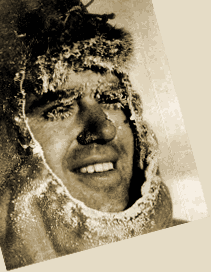 The Mission : Team
Leaders:
Norman D. Vaughan
Carolyn Muegge-Vaughan

Climbers:
Vern Tejas, lead climber
Vern made the first successful solo winter ascent of Mt. McKinley in Alaska and the first solo ascent of Mt. Vinson in Antarctica. He is the first Alaskan to have climbed all Seven Summits, and once climbed all seven twice in 365 days. He was the lead climber on the Mount Vaughan Antarctic Expedition, 1993 - 94.
Marty Raney
A 30-year logger, log builder, and stone mason, Marty has guided ten times on McKinley and climbed in most of Alaska and Canada. Marty usually entertains everyone on the mountain with his music. He always takes either his guitar or banjo and has a CD, Strummin from the Summit, featuring himself and Vern. Marty's wife and four kids also climb and together will be making the first family ascent of McKinley in 2006.
Gordon Scott
Gordon works winters as a professional ski patroller and avalanche consultant in Alaska. He specializes in avalanche safety and mitigation, mountain rescue, and first aid. He joined Norman Vaughan and others on the successful recovery of a P-38 from deep in the Greenland icecap in the 80's and early 90's. In the summers, he works as a commercial fisherman.
Brian Horner
Brian is one of only a few full time Survival Instructors in the U.S. He has spent 20 hours in an exposure suit in 45 degree water, has helped the Discovery Channel find 1,000 year-old mummies in Peru and travels "solo" in the backcountry for weeks. He is on the Mt. McKinley high altitude rescue patrol and is both a SWAT and Wilderness Medicine instructor and is considered the leader in the field of survival education in the U.S. Brian was the medic, mountaineer, and "cook" on the Mount Vaughan Antarctic Expedition in 1993-94.
Michael Funke
Michael came to Alaska to climb Denali in 1980 and made the state his home. As owner/operator of Alyeska Mountain and River Guides and a mountaineering instructor at the University of Alaska, he has led over 150 climbing, paddling and trekking expeditions across Alaska and the world. Michael was a member of the National Geographic team that filmed the first Mount Vaughan Antarctic Expedition.
Robert Mads Anderson
Robert led the first ascent of a new route on Everest's remote Kangshung Face, climbing without oxygen or Sherpa support in 1988, before going on to complete the remainder of the worlds seven summits solo. He has pioneered three new routes on Antarctica's tallest peak, Mt. Vinson, two of which he completed solo. In 1998 he flew to the North Pole in a Russian Biplane with Ron Sheardown, landing there on Easter Day and in 2003 led the 50th anniversary ascent of Mt. Everest, summiting with Sibusisu Vilane, the first black man to reach the top of the world.

Medical:
Dr. Bill Mayer
Laurie Haney

Documentary Producer: